Bright Community funding helping people with learning disabilities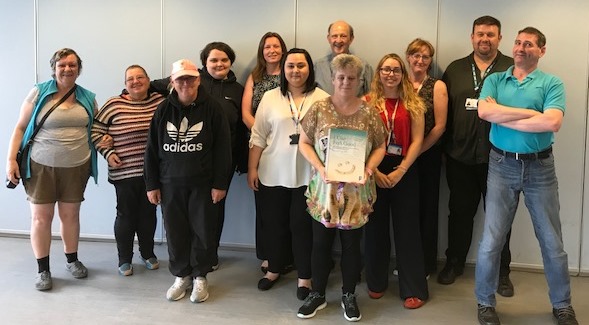 People with learning disabilities in North Tyneside are benefiting from Bright Community funding.
Our North Tyneside Community Learning Disabilities Team successfully applied for Bright Community funding to buy a resource book to help people with a learning disability develop skills that would enable them to live more independent and fulfilled lives.
Yoji Yordanova, Assistant Psychologist, says the resource book has helped the team to develop and adapt a Dialectical Behaviour Therapy (DBT) programme that is accessible for people with learning disabilities. She said: "DBT is a complex and intensive programme that expects a high level of independent work from each participant. The programme had been adapted for people with learning disabilities, but not to a level that would have been accessible for our patients.
"This resource book breaks every component of the DBT programme into easily understandable sections. Having the book helped us design our own DBT-informed programme, with the people we support in mind. We have been able to use the programme not only with the people that attend the group, but also use specific sessions with people who require individual therapy. "
DBT is a specific intervention, consisting of a combination of individual psychotherapy, group skills training and therapist consultation. DBT draws on Cognitive Behavioural Therapy (CBT) in its approaches, but also has specific emphasis on mindfulness skills. The aim of DBT is to support people to be mindful, regulate their emotions, tolerate their distress and improve their interpersonal skills.
Funding for the book was allocated by the Staff Lottery Grant Allocation Group. Following the initial grant, the team successfully applied for a second grant to buy materials including, Mindfulness CDs and sensory items, to make sessions more engaging for the patients. This has also helped patients reflect on and retain the sessions content better.
Yoji said: "These materials make the whole session more enjoyable and interactive for people. This has resonated with the people attending the group who have told us they like the practical aspect achieved through the materials and equipment we bought.
"By making the session content more accessible and appropriate we have been able to provide support for a wider range of people, adapting the content to each person's individual level of ability.
"We wouldn't have been able to do this without the support of the Bright Charity."
Bright Community is a dedicated fund which has been created specifically to provide funding exclusively for community-based initiatives, projects or equipment that directly benefits our patients.
Bright Community forms part of our trust Bright Charity (Registration number 1083122) and receives 15% of money raised through the Staff Lottery, together with donations made by patients, service users and visitors.